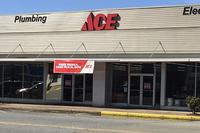 Donaldson Ace Hardware
119 N Broadway St
Hugo, OK 74743
Phone: (580) 326-5528
Email:
ronnie@aceelectricandhardware.com
Mon - Fri 7:30 am - 6:00 pm
Sat 7:30 am - 5:00 pm
Sun 11:00 am - 3:00 pm
Ronnie Donaldson
Manager

Ronnie & Paula Donaldson
Owner
As Ace Electric and Hardware, our store has been servicing the Hugo area community in one form or another since 1963. We are pleased to become a member of the broader Ace Hardware family. On March 5, 2018, we were DELIGHTED to announce we have fully reopened after our extensive remodel! As your local Ace Hardware, our store is a member of the largest retailer-owned hardware cooperative in the industry. Ace Hardware began as a small chain of stores in 1924 and has grown to include more than 4,600 stores in 50 states and more than 70 countries. As part of a cooperative, every Ace Hardware store is independently owned. Each Ace Hardware is unique and tailored to meet the needs of its local community. We are all committed to being "the Helpful Place" by offering our customers knowledgeable advice, helpful service and quality products. As the helpful hardware folks in your community, we promise that, "helping you is the most important thing we have to do today."