Color of the Month:
Play it Cool
N-C2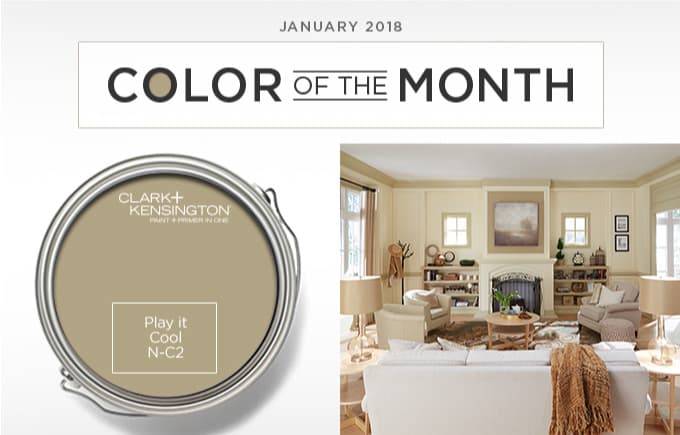 There's nothing basic about the January Color of the Month Clark+Kensington® Play it Cool N-C2. A classic neutral with a slight yellow-green undertone, it sets the stage for the calming oasis you call home.
A safe and easy way to create a sophisticated space is to opt for a monochromatic palette layering warm, earthy tones, dark browns and creamy whites. This is ideal for places where you want to unwind after a busy day, such as a bedroom or den.
A friend to all colors, neutrals balance out brighter hues and jewel tones. Play it Cool pairs effortlessly with varying shades of orange and green, which works well in more active spaces such as family rooms and kitchens. It's also a great transition color in hallways between brighter colored rooms. In a fast paced world filled with busy schedules and not enough hours in the day, it's nice to come home to your sanctuary for a little dose of calm. Pair with: Clark+Kensington Haven of Coziness N-C1, Peak of the Mountain 26B-3, and Darjeeling 11A-4.

The colors represented here may not match the actual paint colors. For best color representation, pick up a color chip of your selected hue from The Paint Studio color displays at your local Ace store.
---
View How To Pick Neutral Paint Colors
How to Makeover a Plain Interior Door