Color of the Month:
Boutique Flair
44B-3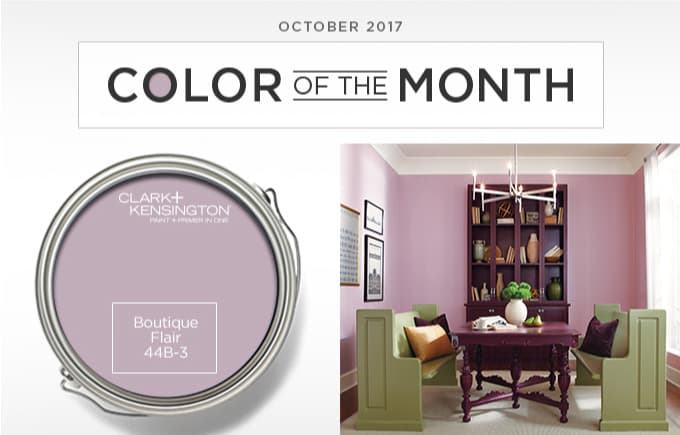 The October Color of the Month is Boutique Flair 44B-3. A unique hue that is versatile and mysterious, purple is stunningly expressive in its many forms. Lighter shades and mid-tones with red undertones set the stage for a relaxing oasis and work well in a bedroom or a master bathroom. Deeper shades of purple with blue undertones add a luxurious and dramatic effect, making them ideal for a dining room or office. If you're not ready to take the plunge with a full room of this enigmatic color, try it as an accent wall, on furniture or on trim to complement existing décor. As in nature, purples pair beautifully with earthy greens and gold, bringing depth and richness to any space.

Meet Ace's 2017 All-Star, Roxie
The Ace Hardware Foundation is pleased to have 8-year-old Roxie from St. Louis, MO as the organization's fifth-annual Ace Cares for Kids All-Star. And guess what her favorite color is? Yes, purple! And she has a bubbly and endearing personality to match. An Ace All-Star demonstrates good character and at such a young age, Roxie clearly exemplifies this distinguishing quality through her fundraising efforts to help other CMN Hospital patients and their families. Roxie's favorite instrument is the violin, and her favorite activities include soccer and cooking.

The colors represented here may not match the actual paint colors. For best color representation, pick up a color chip of your selected hue from The Paint Studio color displays at your local Ace store.
---
Watch Roxie's story here and visit your local Ace Hardware store to give support to your local CMN Hospital.
Which Paint Sheen Should I Use?