Color of the Month:
Port of Bordeaux
5014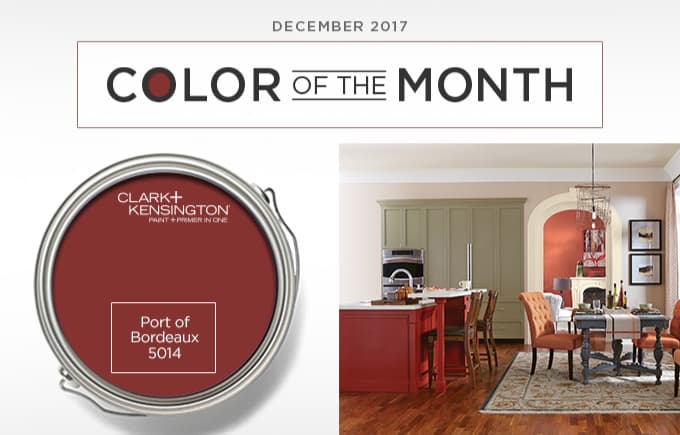 A forever favorite, red makes a statement and instantly transforms a room. The December Color of the Month is Clark+Kensington® Port of Bordeaux 5014. This deep, muted hue is a more sophisticated version of primary red, which creates an effect that is both dramatic and a bit mysterious.
Not for the faint of heart, decorating in red takes confidence. It invites an energetic feeling into a room whether you go bold on all four walls or use it sparingly on cabinets, furniture or a playful accent wall. Paired with classic white, Port of Bordeaux is refined and becomes the center of attention. It can also be downplayed a bit when paired with a range of colors from cool gray and muted green, to warm orange and neutral taupe.
Remember that a little bit of red goes a long way. If you hesitate to use it in large doses, you can start with one area of a room like a kitchen island or a hanging pot rack to create a focal point. Carry over the same color in small touches on decorative elements, fabrics and in adjoining rooms to create a cohesive look throughout your home. The result is friendly and welcoming with a designer touch.

The colors represented here may not match the actual paint colors. For best color representation, pick up a color chip of your selected hue from The Paint Studio color displays at your local Ace store.
---
How Paint Color Transforms a Room
How To Prep Walls For Painting